Working in public relations, you quickly realize how having a third party tell your story adds credibility for your organization. Our social media experts amplify that principle through brand ambassador programs.
A brand ambassador program is a structured way to leverage some of your best spokespeople – your employees! The concept of a brand ambassador program is simple: use the people who know you best to share about your company, culture and offerings. These ambassadors can highlight the great work your organization is doing by sharing your corporate content with their network. While I'll leave the engagement metrics to the expert, I wanted to share a few reasons why I'm so dang proud of being a brand ambassador for Flint Group.
I love my company
I'm a firm believer that when people ask "do you love what you do?" there should be a resounding "YES!" that quickly follows. Are there long days or even bad days? Of course, we all have those, but I feel so dang lucky to say I truly love my days, my coworkers and the company I work for.
While it's cliché, those of us at Flint Group really don't have two days that look the same. And because of that, we are constantly challenged and encourage to grow in our disciplines and abilities. We're empowered to find creative and valuable solutions for our clients. The expression "iron sharpens iron" really describes this crew, because we are constantly pushing each other for a new way to better ourselves, our company and our clients.
We have leaders who want to invest in our talents and team members who support us and go to bat for us each and every day. We celebrate our value of "be the person you want to work with" and find ways to cultivate not only our professional external relationships, but also our internal ones, too. We've found that relationships build trust and trust creates efficiency in our work.
Pro tip for implementing a brand ambassador program: Live your values – it makes it so much easier for your brand ambassadors to align with the work you do, but also the way you do it and how you share it with your community.
I'm really proud of the work we do
While I would argue that I work with some of the coolest people around, I also think they are some of the smartest people I know. From big, bold brainstorms to strategic and detailed execution, the talent that I'm surrounded by baffles me on the daily. These smarty pants produce performance-based results and offer incredible insights. I feel fortunate to be around my colleagues to soak up all the wisdom and knowledge I can, and in turn share it with or connect them to my clients that could benefit from their expertise.
At Flint, we've created a culture that allows for each contributor to do so freely and without judgement. There is no idea too big or too small for us to delve into, and while not all of our initiatives are winners, it certainly creates a culture of creativity and innovation. I view this mentality as a huge key to our success. You'll never hear "that's how we've always done it" around these parts.
Pro tip for implementing a brand ambassador program: Leverage your experts. Host meetings where they can share new solutions to challenges they're seeing. Staying on top of trends and sharing those with your followers may lead to new connections or new business.  
Related: Company culture: It's more than a lunch break and where you sit in the office
I want to help establish my organization as a pillar in our community
I'm not sure if you know this, but not a ton of people view Fargo as a hip, eccentric culture hub. I know, I know, I'm as shocked as you. While we rely heavily on perception in my industry, I'm also somewhat selfishly glad that not everyone has caught on to the allure of Fargo (take a tour!). We have a stable and growing business community, a rich arts scene and some of the best quality and locally sourced food you can find. And Flint is nestled in the heart of that excitement. I appreciate the support my organization throws into our community. Whether attending a "Business After Hours" hosted by our local Chamber, or doing pro bono work for an arts organization, Flint allows me to immerse myself in my surroundings and really fall back in love with my community.
Pro tip for implementing a brand ambassador program: Encourage your ambassadors to highlight how your organization is supporting your community. Through volunteer opportunities or unique work experiences, highlighting those interactions not only shows off your distinctive culture, but it also may instill a level of gratitude for your workforce.
As I wrap this up, I want to take a moment to speak right to current or potential brand ambassadors. Your work matters, your efforts matter and you truly are a champion of your company's culture. Keep engaging with those around you to foster the best culture you can be.
And if you're not a brand ambassador, but have challenges with company culture, fostering internal relationships or recruitment, drop us a line at news@flint-group.com or check out our blog to learn about ambassador programs for your company.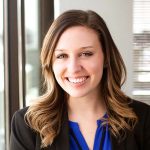 Madison Quamme
As the public relations manager, Madison leverages a strategic approach as she plans tactics to effectively communicate with audiences across various channels. Driven by relationship cultivation, Madison serves as a trusted partner to clients, as they nurture connections with their stakeholders. She brings passion and experience in strategic planning, internal and external corporate communications, public positioning and reputation management. Prior to joining Flint, Madison served as an account manager at Ironclad Marketing, a public relations and marketing firm focused in heavy equipment. She was responsible for providing strategic insight for clients as well as quarterbacking and executing annual marketing plans. Additionally, she brings experience in the civil engineering and healthcare industries.